Ho Shuan Enterprise Co., Ltd.--Flipper tables, teacher desks, whiteboards, functional units, student desks, childhood furniture--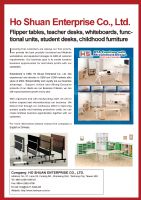 Insisting that customers are always our first priority, we provide the best possible functional and Modular workstations and equipment storages to fulfill all customer requirements. Our business goal is to create lucrative business opportunities for and share profits with our customers.
Established in 1986, Ho Shuan Enterprise Co., Ltd. has experienced and devotes in OEM and ODM markets after years of effort. Responsibility and Loyalty are our business advantage , Support ,Advice and offering Exclusive products of our clients are our Business Criterion, we can still expect business growth every year.
Well organized and with hardworking staff, we aim to further expand and internationalize our business. We believe that through our continuous effort in improving product quality and lowering production costs, we can create limitless business opportunities together with our customers.
Company: HO SHUAN ENTERPRISE CO., LTD.
Address: No. 27, Lane 25, Fuming Rd., Shenkang Dist., Taichung City, Taiwan 429
Tel: 886-4-2561-9461/2
Fax:886-4-2562-4796
E-Mail:hos@ms17.hinet.net
http://www.hoshuan.com.tw